HiTech Billing, Accounting Software for Petrol Pumps
---
Transactions in Accounts
inatra.bmp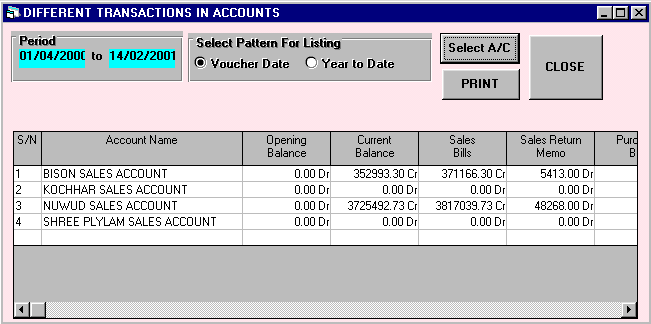 Transactions in Accounts - Financial Accounting and Business Management software for Traders, Industry, Hotels, Hospitals, Medical Suppliers, Petrol Pumps, Newspapers, Magazine Publishers, Automobile Dealers, Commodity Brokers. - Petrol Pump management software, accounting software, Business Management and Accounting Software for Petrol Pumps. Modules : Pumps, Parties, Inventory, Transactions, Payroll, Accounts & Utilities. Free Trial Download. Business Management and Online Financial Accounting Software, We develop web based applications and Financial Accounting and Business Management software for Trading, Industry, Hotels, Hospitals, Supermarkets, petrol pumps, Newspapers, Automobile Dealers etc.
To see the different transactions in account over a period of time select the option
Account Analysis / Transactions in Account
under the main menu option
Accounts
.
A window will be displayed for Transaction in accounts. First of all click on
Voucher Period
to select the period, for help refer
Period Selection
. If you select
Year to Date
then automatically the period selected will be from the start of financial year to the current date.
Select the account whose transaction is to be seen, for this click the button
Select A/C
and select the account by the double click of the mouse. Once the period and account is selected following information of account transaction will be displayed like: Account name, Opening, Current, Sales, Sales return, Purchase, Purchase return, Payment, Receipt, Journal, Contra.
To print the report refer
Print Using Hitech Print Engine
To exit from the window select the button at the right hand side of the window.