HiTech Billing, Accounting Software for Petrol Pumps
---
Control Accountwise Trial Balance
inacatb.bmp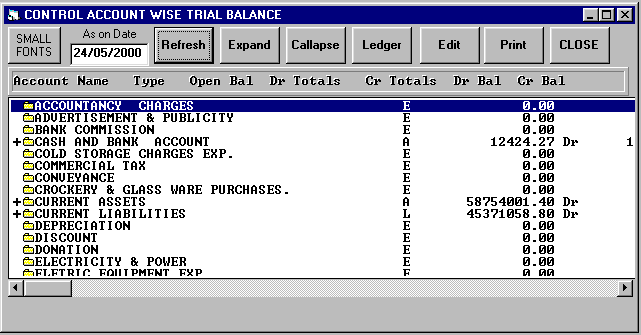 Control Accountwise Trial Balance - HiTech Computer Services offers complete barcode inventory solutions. Specializes in off-the-shelf systems for traders, industries, hotels, hospitals, petrol pumps, automobile dealers, newspapers, commodity brokers etc. - Petrol Pump management software, accounting software, Business Management and Accounting Software for Petrol Pumps. Modules : Pumps, Parties, Inventory, Transactions, Payroll, Accounts & Utilities. Free Trial Download. Business Management and Online Financial Accounting Software, We develop web based applications and Financial Accounting and Business Management software for Trading, Industry, Hotels, Hospitals, Supermarkets, petrol pumps, Newspapers, Automobile Dealers etc.
To see the control account wise trial balance select the option
Control Account Wise Trial Balance
under the menu option
Account
.
A window will be displayed, you will have to click the button
Refresh
which will display the chart. The chart displays Account Name, Type, Opening balance, Current balance, Dr totals, Cr totals, Dr balance, Cr balance. Some of the accounts are control accounts, that means there are one or more sub accounts for these accounts. Name of control account is prefixed with a plus (+) sign. Accounts can be of four different types and the Type of account in the chart displays I if it is of type income, similarly E for expenditure, A for asset and L for liability. Opening balance, Current balance display the value in Dr, Cr.
If the chart is very big in size and you wish to have its complete view, click the button
SMALL FONTS
which reduces the font size and hence more text can be viewed in the same screen.
To expand all the control accounts click the button
Expand
. This will show the sub accounts of all control accounts with their type and balances. To expand only one control account you can click on the plus (+) sign prefix of that control account. To collapse the sub accounts into respective control accounts you can use
Collapse
button.
To see the ledger of a particular account select the account and click the button
Ledger
. Similarly to edit account definition select the button
Edit
.
Print out of the chart can be taken by clicking the button
Print
. To print the report refer
Print Using Hitech Print Engine