HiTech Billing, Accounting Software for Petrol Pumps
Software for Management of Petrol Pumps
Complete with Pump Module, Payroll and Accounts Module
Adding New Employee in the Record
Adding New Employee, Employee Module, Employee Record



Full Version Only






Adding New Employee;Employee Module; Employee Record - We develop web based applications and Financial Accounting and Business Management software for Trading, Industry, Hotels, Hospitals, Supermarkets, petrol pumps, Newspapers, Automobile Dealers etc. - Financial Accounting Software for Hotels, Hospitals, Traders, Petrol Pumps, Visit for trial download of Financial Accounting software for Traders, Industry, Hotels, Hospitals, petrol pumps, Newspapers, Automobile Dealers, Web based Accounting, Business Management Software. Business Accounting Software Promotion by Resellers, Resellers are invited to visit for trial download of Financial Accounting software for Traders, Industry, Hotels, Hospitals, petrol pumps, Newspapers, Automobile Dealers, Web based Accounting, Business Management Software.

Not Available in Compact Version of the software .


inerec.bmp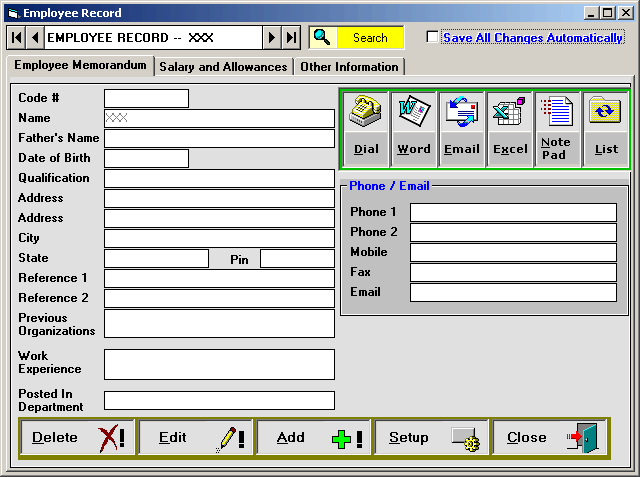 Adding New Employee;Employee Module; Employee Record - Resellers are invited to visit for trial download of Financial Accounting software for Traders, Industry, Hotels, Hospitals, petrol pumps, Newspapers, Automobile Dealers, Web based Accounting, Business Management Software. - Petrol Pump accounting software, POS software, POS, Business Management and Accounting Software for Petrol Pumps. Modules : Pumps, Parties, Inventory, Transactions, Payroll, Accounts & Utilities. Free Trial Download. Website Development, Hosting, Custom Accounting Software, Accounting software and Business Management software for Traders, Industry, Hotels, Hospitals, Supermarkets, petrol pumps, Newspapers Magazine Publishers, Automobile Dealers, Commodity Brokers etc.

To add new employee give Menu Command Employee Record . A window will be displayed for Employee Record Entry. The various details about the employee like Name, Address, qualification, basic salary, date of joining, HRA, work experience, DA percent, tax deduction, etc. can be typed in the text boxes which are labeled accordingly. These data fields or text boxes are bound to the Data Control linked to employee information database. As you will click one of the four buttons on the data control you will see the text displayed in the bound text boxes change accordingly.

Employee record window is having a tab control with three tabs, which are Employee Memorandum , Salary and Allowances and Other information tab. Clicking on any of these tabs will display different fields. You can move between these tabs with the help of mouse or using left or right arrow keys from the keyboard. Employee Memorandum tab will display fields related to personal details such as name, father's name, address, date of birth, references, etc. Salary & Allowances tab will display fields related to the salary of employees, such as, basic salary PM, HRA, DA, etc. Finally, Other Information tab will display date of joining, ESI number, EPF number, etc.

To add new employee press command button Add on the Data Command Button Group . The various data field of the employee record will become empty so that you can enter a new record. If you start entering records by clicking Employee Memorandum tab first, you will start with a code. A new unique code will be selected and be displayed in the Code field. Code should be unique and it must be given. Giving No code will not be allowed. However, codes are optional to use, if you don't intend to use codes then let the computer decide the codes for you automatically.

Now you can start typing the appropriate information in the text boxes. To move from one text box / field to another use Tab and Shift Tab keys on the keyboard or use mouse.

The employee name should be unique. No two same names of the employees are allowed because the name will be used to open ledger account of the employee and all account names should be unique. If the employee name which you entered now already exists either in employee record, customer record or supplier record or exists as account head a message will be displayed. Change the names to unique / different names if they do not correspond to the same party. After entering the name you have to enter employee's father's name, date of birth and employees' qualifications. The next few lines are for entering the address. Enter city in the text box labeled City and Pin Code in the box labeled Pin Code.

Various other details about the customer like references, details of previous organization, work experience and department can be given in appropriate text boxes.

inesa.bmp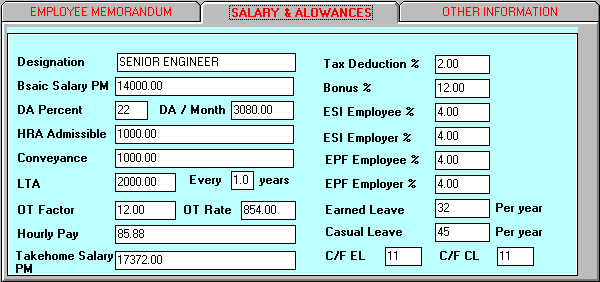 Adding New Employee;Employee Module; Employee Record - Free business software downloads freeware sharware demo. Software for Hotels, Hospitals, traders, industries, petrol pumps, medical stores, newspapers, commodity brokers. - Accounting Software Development, Web Designing, Hosting, We develop web based applications and Financial Accounting and Business Management software for Trading, Industry, Hotels, Hospitals, Supermarkets, petrol pumps, Newspapers, Automobile Dealers etc. Customized Accounting Software and Website Development, Accounting software and Business Management software for Traders, Industry, Hotels, Hospitals, Supermarkets, petrol pumps, Newspapers Magazine Publishers, Automobile Dealers, Commodity Brokers etc.

Now you can move towards another tab. If you click on Salary & Allowances tab, then you have to first enter the designation of the employee. Then you have to add the basic salary per month, and Dearness allowance ( DA ) in percent. DA given per month will be calculated automatically. After this, add admissible House Rent Allowance ( HRA ) and conveyance. Next text box is related to the LTA, that is Leave travel allowance. You have also to specify the number of years after which LTA is given. Next field OT factor is nothing but the factor to overtime rates on hourly basis. It may be double for any employee as compared to the other employee. OT rate is the overtime rate. OT rate is calculated with the help of OT factor. Both these fields are related to overtime payments. Hourly pay is the actual expenses made on a employee per hour. It includes all salary, allowances and contribution made to provident fund, etc. for an employee. Take-home salary per month is the actual amount which an employee takes away to his home, which is paid to him after all deductions such as tax, contribution to provident fund, etc. Other entries to be made are tax deduction in percent, bonus in percent, contribution of employee and employer to Employee state insurance ( ESI ) and Employees' Provident Fund ( EPF ). Finally specify the earned leave, casual leave, carried forward earned leave and carried forward casual leave. Carried forward earned leave and carried forward casual leave are the number of earned leave and casual leave carried from the last year. They must be added to the current year's earned leave and casual leave. If you does not enter any of the values, that value will be automatically taken as zero.

ineoi.bmp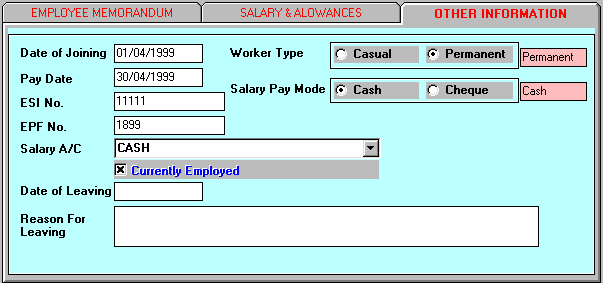 Adding New Employee;Employee Module; Employee Record - Accounting software and Business Management software for Traders, Industry, Hotels, Hospitals, Supermarkets, petrol pumps, Newspapers Magazine Publishers, Automobile Dealers, Commodity Brokers etc. - HiTech Financial Accounting Software for Petrol Pumps, Business Management and Accounting Software for Petrol Pumps. Modules : Pumps, Parties, Inventory, Transactions, Payroll, Accounts & Utilities. Free Trial Download. Promote Business Accounting Software and Earn Money, Resellers are offered attractive commissions. International Business. Visit for trial download of Financial Accounting software for Traders, Industry, Hotels, Hospitals, petrol pumps, Newspapers, Automobile Dealers, Web based Accounting, Business Management Software.

Now you can move to the next tab, i.e., Other Information . Here you have to give the date of joining, Date of pay, ESI number, EPF number, name of the salary account, date of leaving and reason for leaving. For salary account option, a drop down list would be displayed. You have to choose one of the options. Salary account is the account head, where the salary of the employee will be posted. For example, there can be different account heads labor, casual, permanent and staff. If the employee is currently employed, click on the Currently Employed option till the tick mark displays inside it. Worker type may be either Casual or Permanent. Similarly, Salary pay mode may be either cash or cheque. You can also choose the option Truncate Salary to nearest ten Rs. . This option is used to round up the salary to nearest ten rupees. The balance is transferred to the employees' account, which is cleared afterwards. For example, if salary amount is Rs. 4507, Rs. 7 can be transferred to the account and after sometime that account may be cleared by paying the collected amount to the employee.

When you have finished entering the record then press command button marked Update . To save your record automatically Tick check box Save All Changes Automatically.

To add another record press command button Add . To close employee record press command button Close .

hcommunic.bmp






Adding New Employee;Employee Module; Employee Record - Resellers are invited to visit for trial download of Financial Accounting software for Traders, Industry, Hotels, Hospitals, petrol pumps, Newspapers, Automobile Dealers, Web based Accounting, Business Management Software. - Petrol Pump management software, accounting software, Business Management and Accounting Software for Petrol Pumps. Modules : Pumps, Parties, Inventory, Transactions, Payroll, Accounts & Utilities. Free Trial Download. Business Management and Online Financial Accounting Software, We develop web based applications and Financial Accounting and Business Management software for Trading, Industry, Hotels, Hospitals, Supermarkets, petrol pumps, Newspapers, Automobile Dealers etc.

The contact information of the customer can be accessed using this control. This control enables you to use various standard interface in Windows OS and MS Office program namely Telephone Dialer, MS Word, Email, Excel and Notepad.

The file you export in Email, Word, Excel or Notepad are associated with the name of the customer and date. Once the file is saved it can be re-accessed by displaying the list. The files can also be deleted from the list. This control is very useful for Creating, Filing and tracing the correspondence with each of your customer, Supplier or Employee.